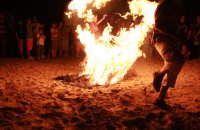 In every corner of Greece, in any small or large village, certain centuries-old customs continue to play an influential role in the lives of Greeks.
One such custom is the klidonas, which is commemorated in many areas of the Greece on June 23, the eve of the feast of St. John. It is an ancient custom, dating at least to Homeric times, since he mentions it in his works.
The protagonists of this custom are the unmarried girls who take part in the ritual, which is something like a divination ceremony. The girls select one girl or a small group to go to the village well and bring the 'silent water', so called because during this process a...