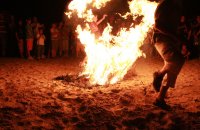 In every corner of Greece, in any small or large village, certain centuries-old customs continue to play an influential role in the lives of Greeks.
One such custom is the klidonas, which is commemorated in many areas of the Greece on June 23, the eve of the feast of St. John. It is an ancient custom, dating at least to Homeric times, since he mentions it in his works.
The protagonists of this custom are the unmarried girls who take part in the ritual, which is something like a divination ceremony. The girls select one girl or a small group to go to the village well and bring the 'silent water', so called because during this process a complete silence among the girls is obligatory. Once they get into the house of the chosen, the water is poured into an earthen vessel, into which each girl places a personal object known as a rizikari. After this process, the clay pot is sealed with a red cloth, while the girls recite the incantation: "We seal the klidonas with the grace of St.John; let her who deserves be the fortunate one!"
The girls put the vessel in an area of ​​the yard, or on the roof to be exposed to the starry sky. Every girl goes home and, according to custom, she sees her future husband in her dreams. Before sunrise the chosen girl who hosts the vessel retrieves it and puts it in the house so it is not exposed to the sun's rays.
Having gathered the girls again, usually by midday or afternoon, they unseal the pot in the presence of relatives and neighbors. A girl begins to draw one by one the rizikari objects, without knowing which one belongs to whom, while reciting a couplet which portends the fate of each. Afterwards, each girl takes a sip of water from the vessel, and stands in front of a window, waiting to hear a man's name. The first name the girl will hear is the name of the man that she will marry. After the above procedure, a feast awaits, including the entire village on Saint John's Day a where a second custom takes place, that of fire-leaping. Residents light fires in the village square and compete over who will ignite the largest fire, while still being able to jump over it. So for married folks, the custom of Klidonas is limited to feasting fire building and fire leaping as well as burning the May wreaths. Married or unmarried; young, middle-aged or old, all have a place in this custom that has lasted throughout the centuries.