Wondergreece November 21 , 2013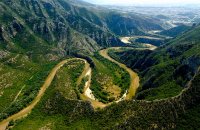 The renowned, snaky river of the North called us for a visit, and we had no choice but to accept its invitation. Here's what you'll need to know if you hear the call of the superb Nestos.
The most usual way to visit the Nestos Straits is to leave your car at the plateau outside the village of Galani, and do a little hiking along the Nestos trail. If you have time and appropriate shoes, there is an alternative way to admire the view of the river and its rich nature, walking in the completely opposite direction, i.e., the path from the abandoned village of Kromniko and then joining the trail before reaching the Straits in the village of...