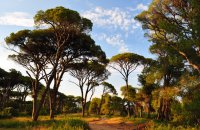 ...while the wolf is far away. And he is indeed far away so it isn't likely to meet him. Neither a bear even though they are not hibernating yet. What you will certainly meet by visiting a forest this time of the year is the benefits of getting refreshed at a cool, peaceful but also adventurous environment – what may lurk behind that huge fallen trunk? – as well as countless images of the beautiful nature. It is definitely worth it!
In Greece, forests cover 25% of the country's surface, despite the fires that break out each year; it is a significant percentage that ranks it fourth in Europe. Yes, except of the maritime force, the country can also count on its forests.
In autumn trees begin to prepare in order to cope with the difficulties of the winter. Some trees, not at all of them, as the rich variety of forests in Greece includes cedar, palm and pine forests, get wonderful orange-red shades on their leaves. At the bottom of their trunks, little mushrooms begin to spring up and of course you have the possibility to visit the forest during the harvest of these and other forest fruits and seeds. Whether you choose to go on a day trip or on a longer exploration of the forest, it will enchant you in a very unique way as you can wander around, getting refreshed at the cool streams, making flutes and eavesdropping on the spontaneous sounds of nature.
So, if you already got the feeling and started preparing your list, some of the forests that shouldn't be absent from it are Valia Calda (it is not just a forest but also a national park), Fraktos forest, the robust Folois forest in Ilia Prefecture, the beautiful Strofylia forest, the unique palm forest of Vai, the oak forest of Kouri, and of course the famous Dadia forest!
If you want to have an even more complete and intense experience, staying at the forest overnight or preferably for some days would be ideal. That's why the forestal villages were created. Wooden houses, usually with a fireplace and all comforts regarding accommodation, surrounded by dense plantation and penetrated with the beautiful sounds and smells of the forest are going to welcome you there. If you choose this type of accommodation, without having to struggle alone in the nature, you can combine it, as most people do, with many outdoor activities such as horse riding, archery, kayaking, mountain biking, climbing and many more.
You can find forestal villages worth visiting in various parts of Greece.
To motivate you, we shall mention the following:

Ano Doliana forestal village, in Arcadia Prefecture, on Mount Parnona only 20 km from Tripoli. T: (+30) 6978971575
Dryades forestal village, Kallithiro, Karditsa Prefecture, Southeasten Mount Pindos, T: (+30) 2441081654
Erymanthou forestal village, Stavroupoli, Xanthi Prefecture, T: (+30) 25420 21008, 25410 63710
Elatia forestal village, 75 km from the city of Drama, at Kara Dere forest, T: (+ 30) 25210 91338, (+30) 25210 91339
Papades forestal village, at Papades in Northen Evia, Τ: (+30) 22270 51008
Wild Life forestal village, Lake Plastiras, Karditsa Prefecture, Τ: (+30) 24410 94693, (+30) 6980741986

When we go on a trip in the forest, we have a wonderful time, we get in touch with the ecosystem and thereby we respect it, we do not do anything harmful, we do not leave trash, we do not light fires and we provide help to environmental organizations that protect the wildlife. It is certain that, even if you experience spending time in a forest for the first time, you will have an amazing, unforgettable time.