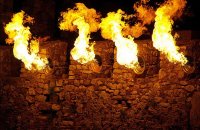 With a lot of ideas and activities the Municipality of Nafpaktos will celebrate the 442nd anniversary of the Battle of Lepanto, under the auspices of the Ministry of Tourism.
"October 1571 , when hundreds of galleys and thousands of men , including the famous Spanish writer Miguel de Cervantes , participated at the Battle of Lepanto , affected the whole of Europe both politically and spiritually ," explains Mr. Ioannis Bulles, Mayor of Nafpaktos and notes : " it is the pulse of this historic event that we wish to convey to the visitor of the celebrations by offering a multifaceted and meaningful program."
Those who will visit the art exhibition which will be held at the Fethiye Mosque, will have the opportunity to admire a travel on the waves of history through the magnificent miniature ship-building works, created by the talented Mr. Evangelos Grypiotis . Historic ship models bring to life in a magical way the naval history of the 5th c. BC to 19th c. AD.
On Saturday, October 12th at 20.30 a spectacular reenactment of the Battle will take place in the Venetian port of Nafpaktos. The festivities will be concluded on Sunday, October 13th, with an impressive peal of the church bells, the mass led by the metropolitan bishop and the traditional procession starting at the Holy Cathedral of St. Demetrios and ending at the historic port of Nafpaktos.
Photos :
Ifanik