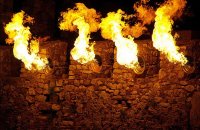 With a lot of ideas and activities the Municipality of Nafpaktos will celebrate the 442nd anniversary of the Battle of Lepanto, under the auspices of the Ministry of Tourism.
"October 1571 , when hundreds of galleys and thousands of men , including the famous Spanish writer Miguel de Cervantes , participated at the Battle of Lepanto , affected the whole of Europe both politically and spiritually ," explains Mr. Ioannis Bulles, Mayor of Nafpaktos and notes : " it is the pulse of this historic event that we wish to convey to the visitor of the celebrations by offering a multifaceted and meaningful program."
Those who will visit the art...