Wondergreece October 30 , 2013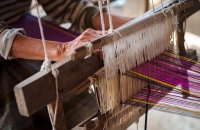 Compared to ultra modern fabrics with their invisible weave, the traditional loom with its clean, distinct strands looks ancient. And indeed it is!
The history of the loom starts as early as the mid- seventh millennium. The patroness of weaving in ancient times seems to have been the Goddess Athena, so called "Athena Ergane." Also, all the Minoan and Mycenaean palaces of the second millennium had workshops with vertical looms. Possibly the first mention of weaving within the Greek literary tradition is in Homer's Odyssey, as the faithful Penelope wove during day and during the night unraveled what she had woven, confounding her...