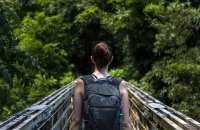 There are many articles around hiking, and hiking tips especially for people who take hiking as a serious thing. However, there is a large part of hikers who simply like to walk during some weekends or less frequently than that.
These hikers, like the soft part of hiking adventures. Thus, you may hear calling them as soft adventurers, even if they don't care about such labeling at all. They are not "professional" hikers and they are not after each bit of detail about hiking hi-tech equipment.
This article is for any newbie in the hiking activity.
It is referring to the equipment and the reason we use it, plus what to know before going for shopping such. It talks about the legs up to the waist part of your body.
Let's start!

Hiking tips for beginners
1. Boots and hiking shoes
You've heard that like one zillion times. You need to wear the proper hiking shoes. That is correct. That and your good mood should be fine…, but is it?
The proper shoes are very important. Depending on the ground type, you will find out that you may need a trekking shoe or a boot. There is no such thing as a "one kind fits all". There is a reason a variety exists, and no it is not about "buying more".
The wrong shoes will create blisters and all kinds of pain to your feet. This may drive you to dislike hiking.
You need to buy shoes from specialized hiking and climbing stores. Do go there and try them out. Customer service in these stores will (should) ask questions on the type of hiking you like or want to do and what time of the year. Do not hide the fact that you are new to hiking or that you know bits and pieces about hiking.
Before you go there, think first. What kind of hiking do you really like to do? In what kind of weather? For example, there are many who really like rain and mud. Some, are fine with rocky terrain. Where to do you go most?
These things matter as the moment you are going to step your foot on the ground and make your first steps, with your new shoes, these shoes will carry the feeling of the road in your mind.
So, go to your local store, wear them and make a few steps in the store. How do they feel? Make sure you wear both shoes while doing that.
Whatever you buy must be treated well. After your hiking you will have to clean them up. You can allow the wet mud to dry down and then brush it off. Others prefer to wash the exterior of their shoes, immediately at the end of each route and wear a 2nd pair of not-for-hiking shoes. Indeed the later is more comfortable and you avoid overusing your hiking shoes. For some shoes there are even special coatings.
Just take care of them and you will enjoy them for a long time.
When you are ready to buy your hiking shoes, make sure you try them on while wearing proper hiking socks or ask the store to provide a pair. Do not use socks that are not suitable for hiking.
Avoid any kind of the "sandal" or semi-sandal type. You definitely don't want small pebbles between your toes while you walk, along with any kind of danger about getting bitten or scratched.
2. How to tie the shoelaces of your hiking shoes
It may sound unnecessary to know but many walk in discomfort, because their shoes are not properly tied. In such shoes there are very specific holes, at the top area. Plus, there are specific ways to tie such shoes.
You must not wear them in a loose manner. They need to be firm but not too tight. You need to be able to walk in a steady way without pain.
Especially in downhill paths your foot will slip at the front. You can't avoid that but with a loose shoe this will lead to lack of balance. Plus, you will damage your shoes and toenails.
A shoe must "break" when it is new. This means: Do not wear your new shoes directly on a hiking trip. Wear them a couple of times before that and walk in them. They will become softer and thus more sturdy. Shoelaces must follow along. This means that you tie the shoe to be stable and as it gets softer you tie a little tighter.
Just follow your perception on how it feels. If it hurts, it is wrong. This is more than true for hiking boots.
2. Hiking socks
This is something neglected by many. They tend to wear regular socks with trekking shoes/boots. Soon, they discover that the shoe interior gets slippery and their toes hurt like hell. Especially in downhill.
You need to choose the proper socks. Ask at the store. Ideally they have to be of the seamless type. Depending on the type of hiking, you need to wear proper socks made from special material. Do not choose socks that will make your feet to boil. Your feet, up to your crouch, get really warm as you walk. while the upper body is more exposed.
Better to have a 2nd pair of socks to change after completing your hiking. Thus, you will avoid growing fungus and any other issue caused by extreme humidity. Getting cold feet is one of them, too.
3. Clip your toenails
Of course this doesn't apply just to hiking. You need to cut them to avoid a variety of injuries.
As you walk there is lots of pressure (your whole body) applied on your toes. Feet move forward in downhills and thus meet the hard interior front of the shoe, since there is always a small space between.
This pressure is applied on toenails, so whatever protrudes, will bent and strain.
While in a long route with many ground types and inclinations this will shuffle around.
So, clip them otherwise you will end up with pain very soon (before the trip ends). You will also avoid the "black toenail syndrome".
4. Use hiking spats
If you hike in a rainy day or after such, then everything will be wet and muddy. By using spats you will avoid:
To end up with muddy (more than wanted) hiking trousers, which makes it tough to clean.
To end up with wet socks up to your ankles. You don't want that in a cold day.
To have your shoes completely wet, even internally. If it gets cold, your feet will feel like in a freezer.
To have an extra slippery shoe, as the interior will slip a lot with the wet socks and all.
5. Your hiking trousers (or pants)
Lots of discussions occur for this thing alone. In general avoid short trousers/pants when in plantation, forests or places with lots of sun/cold.
Avoid sweat pants or any kind of trouser/pants made from such material. These are to comfortably sit at your couch or -maybe- for gym. When these get wet, their weight is multiplied and it takes ages to get them dry while walking.
Avoid jeans… and… ladies, avoid skirts of any length.
Many think that wearing long trousers/pants is not something comfortable in a hot day, but this will protect you from the sun. Remember when we said to avoid sandals. The equivalent here is long trousers. You will avoid getting scratched along with any insect bites. That alone is a good reason.
The temperature, ground type and ground inclination play a significant role on the trouser/pants selection. Your feet are constantly moving so you need to wear something to protect you but not overheat you.
You will get sweaty.
So, wearing something warm, while looking at a "looks-chilly" weather may not be the proper selection. If you produce lots of sweat, this means a need for lots of water, not to mention the energy you loose.
So, make a little research on the conditions you expect to find along your hiking and dress accordingly. If you go with a team, find out the number of breaks, the inclination and type of ground (i.e. rocky, muddy, or other).
Many catch a cold after their lower body is wet and sit somewhere where a small breeze is blowing…
Unless you hike through snow, do not worry about your feet during a break. Your feet will be warm again 2 minutes after you start walking again. As said, it is not like the torso.
There are many kinds and fabrics to choose from. If you go for hiking all year around, you will need more than one types of trousers/pants. There are fabrics that dry very fast, after getting wet, while some are of the elastic type. The latter are very comfortable when you have a difficult ground to walk through and need to stride.
Better to choose a waterproof one. There are also convertible ones where the lower half is unzipped and you end up with short trousers.
Some like to have lots of pockets. That's OK but keep in mind that whatever protrudes will get entangled. Additionally, whatever is places in trouser pockets is heavier than in your backpack.
Finally, when it comes to color, the rule is simple. Bright colors reflect light and heat, while dark ones do the opposite. Choose per condition.
6. Don't drop your trouser/pants
This sounds funny but this small detail is something many times encountered and discussed in hiking trips.
The thing is, as you walk you get sweat. Your feet get tight and thus get a bit thinner. Same thing happens with your waist. This results to getting a bit thinner overall, as you walk.
This combination -along with sweat- makes your trouser/pants loose. Then you see them drop a little. In a big trip they drop more.
To avoid that, better to wear a belt. Many hiking trousers/pants come with a small plastic belt but that will not last long, and will not fit well.
One thing that really works well is… suspenders. These keep your trouser/pants up no matter what, and can be easily and accurately adjusted. Especially those with a bit larger waistline, will find this solution a comfortable one.
Don't forget. The whole case is about having a good time.
7. Underpants
Yes, those are the ones that keep your "jewels" protected, no matter if you are male or female.
Walk for some hours and find out that "that area" is very wet, and not of the sexy type of wet. The only thing you don't need is a wet underwear twisting and entering at places that make you suffer.
Avoid isothermal underpants, unless you choose to walk in extremely cold areas. The produced heat will create "cooking" conditions at your sensitive areas.
The proper choice is to buy some thin elastic underpants (of the boxer type). These exist both for men and women. Women need to totally avoid underpants of the string/thong type, unless you welcome extreme pain and irritations.
To make this even more comfortable, better to have a 2nd pair to change after your trip, especially if you have to drive a long way back.
Conclusion on hiking tips for beginners
This article will continue with another one that is about the torso, up to your neck. Our goal is to provide information on how to enjoy hiking.
These things are grassroots for anyone who wants to hike. Being comfortable while hiking will affect your mood. If you get annoyed and uncomfortable, you will become irritated. Irritation leads to lack of attention and discomfort.
A logical amount of discomfort will make your hiking more adventurous, but better allow that to be in overcoming obstacles through lakes and forests and climb rocks.
Have fun in nature and please share this to your friends.
Source:
agreekadventure.com