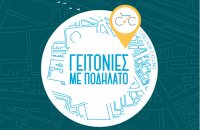 A new ambitious project of the Municipality of Athens and the organization Cities for Cycling.
In those "neighborhoods" of Athens, where the traffic volume is lower and so are the vehicle speeds, the environment is more conducive to the development of cycling.
When someone moves into the neighborhood to go for daily shopping, coffee or in the gym, the distances required to cover is usually from 500 meters to 2 km. Distances that are easy, practical and reasonable to do with the bike. Just include it in the options!
This is the proposal of action On Athens Neighborhoods Bike, that the Sports Organization of Culture and Youth of City of Athens and the organization "Cities for Cycling" are starting in November 2016 with the aim to be completed in spring 2017.
With the bike in the neighborhood
The action will start on 20 and 27 November, in two neighborhoods - the 4th and 3rd Municipal Community respectively - and will continue in the spring of 2017, on 7 Municipal Communities of Athens.
The objectives of the action includes the promotion and development of cycling locally, at 7 Community departments of Athens, aiming for its emergence as an alternative means of transportation for short distances, increasing the number of bicycle users in the streets that will lead and create greater security for the citizens and the reduction of car speed.
The program is as follows
Sunday, November 20th: 4th Municipal Community
Having as starting point the sports center on Petroulas Square in Lenorman street, we will visit Plato's Academy, the Colonos Hill and some of the most historical neighborhoods of Athens.
Low houses, quiet streets, low traffic volume, enough green are the characteristics of an unknown for many Athens neighborhood.
Start: 10:30 Petroulas Square, Lenorman Street and Alexandrias.

Sunday, November 27: 3rd Municipal Community
Starting from the end of the pedestrian Ermou Street, opposite Technopolis of Gazi, we will follow the pedestrian street towards Thissio. Then follow the path to Petralona and return through the bicycle route of Athens through an historically and architecturally interesting site.
Start: 10:30, Ermou and Pireos outside Keramikos.

As part of the actions "Bike In Neighborhoods", the sponsor of the event, CYTA offers a helmet on every purchase of Ideal bike until December 31, 2016.