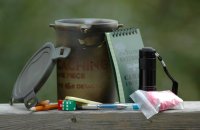 When we were children we used to take part in egg hunts and play with our friends trying to find the hidden chocolate eggs.
Technology takes the game much further, as the boundaries of the game are no longer a backyard or a neighborhood but the whole world. The game counts 6 million players worldwide looking for 2,475,668 caches, small containers with a logbook, where all players that have found the cache note down that they did. In Greece there are over 2,000 caches at famous archaeological sites, picturesque neighborhoods and hidden gorges. There are caches all around the country; at the Temple of Olympian Zeus, at Anafiotika, a scenic small neighborhood of Athens, at various monasteries, caves, abandoned mines, beaches, mountains, rivers and islands. Let all these caches make you explore new interesting places.
The game is called "Geocaching" and the only equipment you will need is a GPS or an internet connection, along with the mood for exploring a gorge, go hiking and find yourselves in unexpected places.
Real-life room escape games are another type of entertainment that is famous all around the world. These simulations are sometimes included amongst the most famous sights and monuments of a country involved.
Players are locked inside a room and need to solve a puzzle before time ends in order to escape. These games become more and more famous. The first festival of real-life room escape games has already taken place and there are more to come.
In Greece there are some escape rooms in Athens and Thessaloniki, attracting many visitors who come to play and have fun.
Either by tracking down caches to explore new places or by solving puzzles to sharpen your mind, these new ways of enriching your trips are already a famous trend!