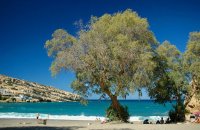 With a total of 408 awarded beaches around the world, Greece managed for another year to remain at the 2nd position among 51 countries.
The first place is occupied by Spain with 571 Blue Flag beaches, Turkey is third with 387 beaches, France is fourth with 379 and Portugal is fifth with 298.
This year
, the International Jury awarded 3,372 beaches and 650 marinas worldwide.
The "Blue Flag" is an international symbol of quality and is awarded since 1987 at coasts and marinas that meet strict requirements of the award.
Founder and International Coordinator of the Program is the Foundation FEE (Foundation for Environmental Education), headquartered in Denmark , with 63 member countries from all continents .
Represented in
Greece by the Greek Society for the Protection of Nature (HSPN), the oldest environmental organization nationwide in Greece (1951), active in environmental interventions, actions and programs of nature conservation, environmental education with 5 longitudinal programs approved by the Ministry of Education, Culture and Sport and the general information and awareness.
The
criteria of the International Program are summarized in the following four categories:
A. Cleanliness of sea and coast
B. Organisation of coast
C. Security ratings
D. Protection of nature and environmental awareness
The
Greek beaches awarded with "Blue Flag" are as follows:
EVROS [2]
Municip. Alexandroupolis: Dimotiki Plaz Alexandroupolis, Kyani Akti
RODOPI [4]
Municipality Komotinis: Fanari/Camping, Arogi, Fanari/Dimotiki, Mesi
XANTHI [4]
Municipality Topirou: Mangana, Municipality Avdiron, Avdira/Porto Molo, Myrodato, Mandra
KAVALA [16]
Municipality Thassou: Makryammos, Chryssi Ammoudia 2, Pefkari 2, Thassos Poli/Limanaki, Prinos / Dasylio 2
Municipality Nestou: Ammoglossa/Keramoti 1, Ammoglossa/Keramoti 2
Municipality Kavalas: Batis, Toska, Kalamitsa, Perigialli
Municipality Pangeou: Ammolofoi, Nea Iraklitsa, Nea Peramos, Sarakina, Ofrynio/Touzla
SERRES [1]
Municipality Amfipolis: Nea Kerdyllia
THESSALONIKI [11]
Municipality Volvis: Serraiki, Asprovalta, Vrasna, Nea Vrasna, Stavros Kentriki, Stavros Anatoliki, Stavros Dytiki
Municipality Thermaikou: Agia Triada/PIKPA, Nei Epivates, Perea, Potamos
CHALKIDIKI [33]
Municipality Aristotelis: Ierissos/Dimotiki 1, Ierissos/Dimotiki 2, Ierissos/Dimotiki 3, Kampoudi 1, Kampoudi 2, Kampoudi 3, Ouranoupoli 2, Ouranoupoli 3, Agios Pavlos, Porto Agio, Nea Roda 2, Stratoni, Kampos
Municipality Sithonias: Sarti 1, Sykia, Toroni, Platanitsi, Porto Carras 1, Porto Carras 2, Elia 2, Makria Lagada, Lagomandra, Marmaras C, Livrochio 1, Marmaras B, Armenistis
Municipality Kassandras: Kryopigi 2, Kryopigi 4, Fourka, Polichrono 3, Chanioti 3
Municip. Neas Propontidas: Eleonas, Nea Potidea
PIERIA [5]
Municipality Katerinis: Olympiaki Akti, Peristasi, Paralia, Kallithea, Korinos
LARISA [5]
Municip. Tempon: Nea Mesaggala 1, Nea Mesaggala 2, Nea Mesaggala 3
Municipality Ayias: Agiokampos/Chrissi Akti, Stomio
MAGNISIA [16]
Municip. Notiou Piliou: Koropi/Boufa, Kala Nera, Kala Nera/Ther. Axiomatikon
Municipality Volou: Agria/Barba Thomas, Anavros, Alykes, Pagasson/Volos, Amarylida, Amfanon, Pefkakia, Chryssi Panagia, Platanidia, Nea Agchialos 2
Municipality Skiathou: Koukounaries, Maratha
Municipality Skopelou: Andrina
FTHIOTIDA [8]
Municipality Stylidas: Glyfa
Municip. Molou-Agiou Konstantinou: Kamena Vourla/Galini
Municipality Lokron: Skala Atalantis, Tragana, Livanates 1/Kiani Akti, Livanates 2/Schinias, Souvala Arkitsas, Vlychada
FOKIDA [8]
Municip. Doridos: Eratini, Chiliadou, Sergoula, Monastiraki
Municip. Delfon: Maiami, Trokandero / Agali, Agioi Pantes, Kalafatis
VIOTIA [2]
Municipality Distomou - Arachovas - Antikyras: Agios Isidoros
Municip. Tanagras: Plaka Dilessiou
EVIA [4]
Municipality Chalkideon: Alykes Drosias, Lefkandi, Asteria Chalkidas
Municipality Eretrias: Eretria 3
ATTIKI [13]
Municipality Marathona: Schinias/Karavi, Brexiza
Municip. Markopoulou Mesogeas: Avlaki
Municipality Saronikou: Mavro Lithari/Eden Beach, Anavyssos / Kendriki, Lagonissi 1 / Grand Beach, Lagonissi 2 / Mediterraneo, Lagonissi 3 / Kochylia
Municipality Varis - Voulas - Vouliagmenis: Varkiza, Asteras Vouliagmenis, Voula A
Municipality Aiginas: Agia Marina
Municipality Kythiron: Kakia Lagada
KORINTHIA [13]
Municip. Loutrakiou-Agion Theodoron: Loutraki 1, Loutraki 2, Loutraki/Boutsi, Pefkakia
Municipality Velou - Vochas: Kokkoni, Vrahati
Municipality Sikyonion: Pefkias
Municipality Xylokastrou - Evrostinis: Xylokastro/Pefkias, Xylokastro/Aristonafton, Kamari, Melissi, Sykia, Derveni
ARGOLIDA [3]
Municipality Ermionidas: Porto Cheli/Chinitsa
Municipality Nafplieon: Karathona, Tolo
ARKADIA [1]
Municip. Vorias Kynourias: Kallisto
LAKONIA [10]
Municipality Monemvasias: Neapoli, Archangelos, Plytra/Pachiammos, Tigania, Monemvasia, Pori
Municip. Anatolikis Manis: Skoutari, Mavrovouni 1, Mavrovouni 2, Vathi
MESSINIA [5]
Municipality Kalamatas: Mikri Mandinia, Anatol. Kalamata 1 /Anastasi
Municipality Messinis: Bouka
Municipality Trifilias: Ai Lagoudis, Kalo Nero
ILIA [8]
Municip. Zacharos: Zacharo
Municip. Piniou: Arkoudi, Vartholomio, Glyfa
Municipality Ilidas: Kourouta
Municipality Andravidas - Kyllinis: Kastro/Chryssi Akti 2, Loutra Kyllinis 1, Loutra Kyllinis 2
ACHAIA [2]
Municip. Dytikis Achaias: Kalogria
Municip. Egialias: Digeliotika
ETOLOAKARNANIA [1]
Municipality Nafpaktou: Psani
PREVEZA [6]
Municipality Prevezas: Kyani, Monolithi, Platania, Mega Ammos, Tsoukes
Municipality Pargas: Loutsa
CORFU/KERKYRA [30]
Municipality Kerkyras: Kommeno, Kontokali, Alykes Potamou, Barbati, Ypsos, Dasia, Kalamionas, Kerassia, Nisaki/Krouzeri, Gimari, Peritheia/Ag.Spyridonas, Almyros, Apraos Kalamaki, Roda, Canal d'Amour, Arillas, Sidari, Palaiokastritsa, Ermones, Glyfada, Kontogialos, Agios Mattheos, Issos, Mesoggi, Chalikounas, Agios Georgios, Marathias, Benitses, Agios Gordios, Dafnila
LEFKADA [7]
Municipality Lefkadas: Agios Giannis, Lefkada/Gyra, Agios Nikitas-Pefkoulia, Kathisma 1, Porto Katsiki, Nidri, Mikros Gialos / Poros
KEFALONIA [12]
Municipality Kefalonias: Petani, Platys Gialos, Makrys Gialos, Avythos, Lourdas, Ammes, Skala, Aragia Porou, Myrtos, Xi, Agia Varvara / Katelios, Antisamos
ZAKYNTHOS [9]
Municipality Zakynthou: Alykanas 1, Alykanas 2, Alykes 1, Alykes 2, Amboula Psarou, Tsilivi, Bouka, Amboula Tragaki, Katragaki
CHANIA [29]
Municipality Kandanou Selinou: Voulismeni, Grammeno, Pachia Ammos, Chalikia, Sougia
Municipality Kissamou: Falasarna / Pachia Ammos 1, Falasarna / Pachia Ammos 2, Kasteli / Mavros Molos-Plaka
Municipality Platania: Platanias, Platanias /Limanaki, Kolymvari, Rapaniana
Municipality Chanion: Stalos, Ag. Apostoli 1, Ag. Apostoli 2, Chrissi Akti, Agia Marina, Kalamaki
Nea Chora, Marathi, Stavros, Agios Onoufrios, Kalathas
Municipality Apokoronou: Maistrali, Kalyves Xyda, Almyrida, Kyani, Kavros, Perastikos
RETHYMNO [17]
Municipality Rethymnis: Rethymno 1, Rethymno 2, Rethymno 3, Rethymno 4 / Myssiria, Platanias Β/Rethymno 6, Perivolia, Adelianos Kampos A, Pigianos Kampos, Skaleta
Municip. Mylopotamou: Panormos/Limni, Lianos Kavos Lavris, Bali Varkotopos, Bali Livadi Municip. Agiou Vassiliou: Damnoni, Plakias, Souda, Rodakino
HERAKLIO [17]
Municipality Maleviziou: Ellinoperamata, Fodele, Ammoudara 1, Ammoudara 4, Ammoudara 5, Municipality Chersonissou, Limenas Chersonissou 5, Agios Georgios 1, Agios Georgios 3, Anissaras, Agios Georgios 2/Panagia Rizi, Drapanos, Potamos, Potamos A, Kokkini Chani, Agia Pelagia / Menopetra, Kastri / Creta Maris
Municipality Festou: Matala
LASITHI [42]
Municip. Agiou Nikolaou: Spiliada, Poros 1, Poros 2, Elounda, Pigaidakia Eloundas, Schisma, Elounda 1, Driros, Chiona, Plaka, Chavania 2, Agios Nikolaos 1, Agios Nikolaos 2, Agios Nikolaos 3, Ammoudi, Kitroplateia, Ammos/Marina, Almyros, Ammos/Dimotiki, Pilos, Ammoudara, Voulisma, Agios Panteleimonas, Karavostasi, Chavania 1
Municipality Sitias: Sitia 1 / Galliko, Sitia 1 / Petra, Vai / Finikodasos, Kouremenos, Chiona, Kato Zakros, Vourlia, Limanaki, Analipsi
Municipality Ierapetras: Makrygialos / Langoufa, Ierapetra 1 / Dimotiki, Ierapetra 2 / Dimotiki, Agia Fotia, Myrtos, Koutsounari / Agios Ioannis, Koutsounari 2, Katharades 1
RODOS [24]
Municipality Rodou: Kiotari 3, Lardos 1, Lardos 3, Afantou 2, Kolymbia, Kolymbia A - Limanaki, Ammoudes/Faliraki, Kavourakia, Kallithea, Mandomata, Faliraki/Kastraki, Faliraki/Traounou, Faliraki A, Faliraki 1, Faliraki 2, Faliraki 3, Faliraki 4, Faliraki 5, Reni 1, Trianta B, Vagies / Ladiko, Faliraki /Kathara, Anatolika Enydriou, Galouni / Kokkinogia
KOS [5]
Municipality Ko: Gourniatis, Troulos, Akro Chelonas, Pefkokefali/Agios Fokas, Lambi
THIRA [3]
Municipality Thiras: Perissa, Kamari 1, Kamari 2
IOS [3]
Municipality Iiton: Ormos, Mylopotamos, Manganari
MILOS [1]
Municipality Milou: Provatas
SIFNOS [2]
Municipality Sifnou: Kamares, Platis Gialos
PAROS [5]
Municipality Parou: Logaras, Tserdakia, Pounta, Marpissa / Chrysi Akt, Livadia
NAXOS [3]
Municipality Naxou: Agia Anna, Agios Prokopios, Agios Georgios
MYKONOS [1]
Municipality Mykonou: Kalafatis
ANDROS [1]
Municipality Androu: Delavogia
KEA [1]
Municipality Keas: Koundouros
SAMOS [2]
Municipality Samou: Potokaki 1, Glykoriza
LESVOS [9]
Municipality Lesvos: Tsamakia, Eftalou/Ag. Anargyri, Kagia, Skala Eressou, Nyfida, Anaxos, Petra, Agios Isidoros, Molyvos
LIMNOS [4]
Municipality Limnou: Evgatis / Zematas, Agios Ioannis, Thanos, Platy