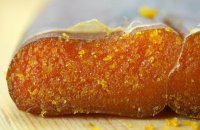 Avgotaracho (bottarga), as signified by the etymology of the Greek word, are stuffed mullet eggs. These really tasteful and cardiotonic eggs is the common secret for a strong heart among the locals in Messolonghi; they eat a thin slice of this Greek caviar before anything else in the morning. It touches the palate like an iodium waterfall leaving a delicate taste, although experiencing their first tastings some could argue about it. Definitely challenges our senses, including taste, as well as libido, as it has also aphrodisiac properties.
Avgotaracho with origins in the fishing weirs of Messolonghi and Aetoliko is not a recipe that sprouted from somebody's gastronomic imagination. It is one of the oldest methods to preserve an aliment high in nutrition value. Besides, what can be more nutritious than a small bag with millions of eggs ready to turn into fish?
During the production process are used only natural materials that exist for thousands of years. Historical references include avgotaracho in dietary habits of Pharaohs and ancient Greeks, while it is possible that our mummification method goes back to Phoenicians.
Female flathead grey mullets are caught from the end of August till mid-September, which means during their fertile period. Once the fish is caught, the ovary that contains the eggs is removed and placed into fresh natural salt, which is abundant in the regional salinas, so that humidity is detracted. Afterwards, the double egg sacks are left to dry in the sun or in dedicated premises under controlled temperature conditions. This stage can last several weeks depending on the size of the avgotaracho. Then, it is sealed in natural melted beeswax, which will protect it the following months. Its amber color and taste will lightly change due to wax process. For this reason the locals prefer it without beeswax. Yet, it is necessary for the preservation of its quality and for its long journey into space and time to reach its destination intact.
The gold of the sea, as it has been called many times, is now ready to be consumed and satisfy every demanding palate. Avgotaracho is a natural product rich in proteins, amino acids, vitamins A, B, C, E, iron, calcium and of course particularly rich in omega-3 fatty acids. Due to the combination of its various salutary properties it is considered important for the circulatory system, as well as for the heart.
Avgotaracho has also become one of the most exotic ingredients of gourmet cuisine, as top chefs marshal all their imagination to combine its intense marine taste with other ingredients and dazzle with their synthesis. However, this is really difficult, as adding anything, like garlic or lemon, seems to change its rich taste. Until now, the most known recipe is spaghetti with avgotaracho, which is really luscious and allows Greek caviar to preserve a lot of its aroma.
Moreover, there are quite a few who prefer it as a side dish for tsipuro, vodka or whiskey and indeed they blend well with each other. Though, our suggestion is to savour it with walnuts before breakfast and for sure you'll have a wonderful and full of energy day!