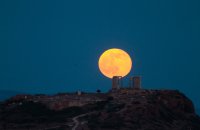 Every year we expect the perfectly round full moon of August moon to enjoy a night walk in dozens of archaeological sites across Greece. This year archaeological sites, monuments and museums will remain open for the full moon on Thursday 18 August.
The Ministry of Culture and Sports organizes this year, as every year, events with free entrance.
The events will take place the day of the full moon and on 17, 19, 20 and August 21, 116 archaeological sites, monuments and museums throughout Greece. They include music, dance, theater, art exhibitions, film screenings, poetry etc.
The Minister of Culture and Sport Mr. Aristides Baltas expressed his gratitude to the Ministry of services and particularly to the security personnel to support the realization of the event, which every year the audience embraces with great participation.
Analytically events throughout Greece here.