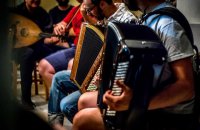 The first week of August the island of Syros is flooded with music! And especially music with common reference the accordion.
Τhe Accordion Festival of Syros is the only event dedicated to the Accordion, throughout Greece. The festival has already gained loyal followers and it's reputation is increasingly growing. It is a music event that promotes the accordion in all its dimensions, from traditional, classical to modern music.
The Organization is a result of voluntary effort from accordionists and accordion friends who offer their time and skills, spurred by their great love of the accordion, music, art and Syros. Every day, for an entire week, exhibitions, lectures and workshops are organised, in which children, students, artists, amateurs and professionals, music teachers and accordionists of all ages and all levels participate.
Every night, concerts take place covering different kinds of music styles with the accordion, starting the first day with a youthful concert of children from public Music Schools, Conservatories or private Music Schools. Music stage performances are organized, open to all musicians and offer evenings of musical improvisation.
In 2015, 80 people came to Syros for the Accordion Festival. Musicians, friends and music lovers. 22 accordionists from all over Greece and even Japan participated in open seminars and events. Amateurs, professionals, students and music teachers. More than 1100 people enjoyed the events.

In 2015 the Festival was held at "St. Paul's" building, an imposing mansion in the village of Posidonia. A unique in architecture and historical value building, an old noble house with a beautiful pine yard. For a week, which is the duration of the Festival, at "St. Paul's" building in Posidonia, seminars take place and teachers and participants of the seminar are offered hospitality. The mansion is transformed into an accordion house, filled with musicians, flooded with notes from one side of the building to the other and days are filled with musical experiences.
For 2016, Every day, for a whole week, there are seminars, expositions, workshops and lectures, in which children, students, artists, music teachers, professional or amateur accordionists and other musicians of any age and level of knowledge and skills can participate. Additionally, various concerts are organized through which the manifold potentials of the accordion are presented.

This year, three seminars will take place:
"Rebetiko, Antonis Amiralis and Accordion" by Iraklis Vavatsikas
"Astor Piazzola for everyone" by Konstantinos Raptis
"Balkan music for accordion and instrumental ensembles" by Dimos Vougioukas
Furthermore, there will be concerts in five different spots of the island:

Monday 01/08 ~ Finikas Village, yard of the nursery school
Open stage
Tuesday 02-08 ~ Ano Syros, Piazza
"The accordion in Greek music – Conversation with Antonis Amiralis"
Iraklis Vavatsikas – Accordeon
Kostas Kalafatis – Guitar
The Accordeon is presented through its original rebetiko repertoire and rare instrumental documents. It is a tribute to the school of Smyrna and Antonis Amiralis, though I. Vavatsika's studies of many years.
The accordion is presented in its former version in the registered greek recordings in 1905. Harmonica, fyssa, contralto were the names that were given to an instrument that resembled the diatonic instruments of Southern Italy, Irland, Mexico and other countries, where it is being played up until today. These first recordings were very well hidden by their collectors for over half of a century, due to censorship and their illegal verbal content. The greek diatonic instrument is still missing.
Honorary participation of Kostas Kalafatis
Free entrance
Wednesday 03/08 ~ Posidonia Village, Tsiropinas Mansion
Giannis Vamvakas (accordion)
Giannis Goudanos (drums)
Thanos Goudanos (guitar, vocals)
Giannis Ioannidis (bass)
Dimitris Havlidis (trumpet)
The group "BAiLdSA" from Thessaloniki combines Balkan sounds and gypsy melodies with punk tunes, creating such discrete melodies that when you listen to them "you can hardly keep your feet on the ground". The name of the group comes from the Turkish word
bayılmak
(collapse, pass out), which is commonly used around the Balkan villagges, also with the meaning of "be fed up with".
The group was formed in 2007. Since then, BAiLdSA have been making tours and playing their music sprightfully in festivals, open stages, bars, even on the street. Their music combines various styles such as ska, reggae, gypsy-punk with traditional wind instruments of the Balkans. This combination rises the audience in every live performance!
BAiLdSa have performed in some of the greatest music events in Greece, Turkey, FYROM, Albania, Bulgaria and have shared the stage with great artists such as Manu Chao and Kutur Shock.
In 2014, BAiLdSa released their second album called "zVaRnA" and started their tours all over the Balkan area "like a roma who don't care if he can find any place to stay" (lyrics from the song "ΑΦΤΕR")
Tickets: 5 € (free entrance for children up to 13 years old)
Thursday 04/08 ~ Ermoupolis, pedestrian area
"The accordionists play in Ermoupolis"
the participants of the seminars together with their teachers present their work, divided in small groups all around the city centre
Friday 05/08 ~ Ermoupolis, Apollo Theatre
Qua'SH the quartet of "the senses and … the delusions"
Konstantinos Raptis (Bayan)
Theodoros Kotepanos (Piano)
Panos Dimitrakopoulos (Qanun)
Giorgos Arnis (Double bass)
The "Qua'SH quartet" explores the relations between the music of M. Hatzidakis and the work of three great contemporary composers, Michael Kamen, Nicola Piovani and René Aubry, who were influenced by the distinguished Greek creator.
Four renowned Greek soloists, despite their individual interests in music, combine their "disparate" instruments and present original transcriptions through which they indicate the mental affinity between the major Greek composer and some of his inspired descendants.
Entrance : 10 €
Children, students, unemployed: 6€
Every day, for a whole week ~ Posidonia, at the Tsiropinas Mansion
Panagiotis Zafiriou-PanAccordeon will be hosting the instrument exhibition and the maintenance workshop, every day for the whole week of the Festival.
More info at the website of the festival:
syrosaccordionfestival.com