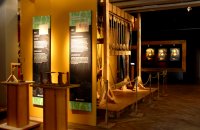 Inventor, artist, scientist, engineer, sculptor, biologist, musician, architect, philosopher. Leonardo Da Vinci was one of the greatest geniuses in the history of mankind. The exhibition "Leonardo Da Vinci: The Man, The Inventor, The Genius" which during the last years has been hosted in more than 20 cities in the world (Europe, America, Asia, Latin America, Canada) is coming on October 18 in Athens, at Culture Center "Hellenic Cosmos", to present the most important aspects of the life and work of this unique historical character.
As an archetype of the "Renaissance Man", as described, Da Vinci was a connoisseur of the arts, science, engineering and music.
The exhibition "
Leonardo Da Vinci: The Man, The Inventor, The Genius," suitable for all ages, reveals his multifarious activities like never before. While exploring the myths and legends surrounding his life and his inventions that still impress after 550 years.
The exhibition
presents more than 40 three-dimensional interaction models of inventions and machines: flying machines, models based on hydraulic and mechanical science and military equipment.
The exhibits
have been constructed to scale from a traditional Italian company which for two centuries creates replicas, based on the techniques and materials used by Da Vinci.
The machines
presented, are the first examples of a car, bike, helicopter, etc. and are reconstructed based on the notebooks he carried with him, to record his findings. Have been attributed with absolute precision using materials of his time such as wood, metal, cloth and ropes.
October 18, 2013 - February 16, 2014
Visiting hours: Monday - Thursday 09:00-13.30, Friday 9:00-20:00, Saturday 11:00-16:00 & Sunday 10:00-18:00.
Ticket Prices: Adults: € 7
Children - reduced: € 4
Cultural Centre "
Hellenic Cosmos"
Pireos 254, Tavros
Tel: (+30) 212 2540000