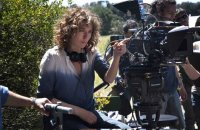 From 1 through 10 November, the vardar winds will blow a cinematic breeze into the city that made an institution of its festival of the Seventh Art. The Thessaloniki Film Festival, oriented towards independent cinema, welcomes creators and viewers alike to a full ten days of events and activities, and naturally, infinite footage. The surprises are many, with special screenings and master-classes that will give an additional flavor to the already successful recipe. Of course there will also be important guests, such as Jim Jarmusch, who will be visiting Greece for the first time, giving us at the opening of the 54th Festival a first viewing of the much talked-about new film Only Lovers Left Alive. This is just one of the much-awaited movies of this year's festival, as the program involves numerous other captivating participants.
The French cinema meets the Latin element of Argentine cinema in a meeting with the Balkans, (and of course Greece), in the most innovative festival of the North. A new unit debuts this year, entitled "Reumata" (= Currents), showing films of an experimental style, and organizing special screenings. Do not forget that this year the festival has as its motto the phrase "open horizons", a phrase that says a lot and makes heads turn in Greece's second largest city for one more year.
Hundreds of films from around the world will be screened at cinemas Olympian, 'Pavlos Zannas', and auditoriums located on the waterfront. It is worth noting that many activities of the 54th Thessaloniki Film Festival are funded by the European Union - European Regional Development Fund. We must also give credit to the people who support and care for the character of the Festival, such as Dimitris Eipides, the director of the festival, and Dimitris Kerkinos, creator of the movement "Eyes on the Balkans"; the people of the Market district, who maintain longstanding ties with the Thessaloniki Film Festival, and the volunteers who each year donate their efforts to make the festival a reality. Happy viewing!