Wondergreece February 11 , 2014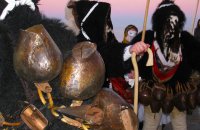 "Old Man", the "Girl", and the "Frank". . . it's Carnival season on Skyros, and the custom has endured for centuries, with enthusiastic participants of all ages. It is the main event of the island, and known throughout Greece. Its origins are lost to history, however the first written reference to this unique custom appears circa 1900, by J.C. Lawson, and 1901, in the book The island of Skyros by Michael Konstantinidis.

The legend surrounding this 'thunderous' tradition is that a shepherd, having lost his sheep, girded himself with their bells and went wandering in search of them. The sound of a lone shepherd's bells is one thing; the...