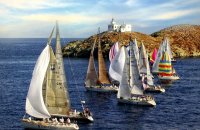 Travelling by a sailing boat is of course neither the fastest nor the most convenient means of transport. But it is the most natural and the best way to explore pristine beaches, to feel the heave of the sea, the wind and to travel under the starry sky. If you want to experience travelling next to dolphins, listening to the dash of the sea and feel the strength of the wind, then you should definitely consider going on sailing holidays. New words, such as a-weather, genoa, off-shore and many more, will be added in your vocabulary and you will experience new balance positions, since the boat sails with a grade, when the weather conditions are propitious. The sense of freedom, which characterizes sailing, is unsurpassable; the only limitation is the weather.
The Aegean Sea is the ideal option for such a journey, since its numerous gorgeous islands are ideal roadsteads both for emergency weather conditions as well as for the meltemia (northern winds) during the summer and especially in August, which challenge even the most experienced sailors to pit against the strong winds that blow almost on a daily basis.
In Greece, an authentic maritime country, you will find boats for rent with or without a skipper in several areas and there is often the possibility to return the boat to the renting company at your destination and continue your journey by other means. You will also find agencies offering sailing excursions to specific destinations, such as the islands of the Argo-Saronic Gulf, the Sporades, the Cyclades located near Attica and several other islands. Prices, which can start from 35 euros per person a day, vary depending on the season, the boat and the services provided. Those who have been involved with sailing before, are aware of the sailing races that take place each summer in the Greek seas and attract yachtsmen from all over the world. The most significant ones are: the Aegean Rally (19-27 July 2013), the Aegean Regatta (18-22 August 2013) and the Ionian Rally (5-11 August 2013), while there are several other races less demanding as far as performances are concerned. The first places are usually conquered by experienced crews that indulge in competitive sailing. However, even the participation in a sailing race is a challenge for confronting the elements of nature and highlighting your skills in navigation. No matter what, it is an amazing experience.
Plan your sailing route, choose the islands you would like to explore, select the level of difficulty and get ready for one of the most genuine ways of travelling. Set sail to popular ports as well as secluded beaches, enjoy their beauties and share your experiences with the multitudinous family of yachtsmen.