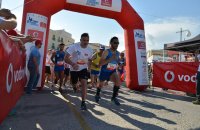 After the success of the TINOS RUNNING EXPERIENCE 2014 & 2015 race meetings and in the constant spirit of pursuing the development and economic prosperity of Tinos, the Administrative Board of Tinos Commercial & Business Association announces the organization of TINOS RUNNING EXPERIENCE 2016 road races on Saturday 11th June, in cooperation with ALL ABOUT RUNNING.

Association's intention and goal is the establishment of this event as an annual athletic meeting on the island, attracting athletes from all over Greece and abroad, as well as people involved in Sports, developing this way an equally significant tourism sector, that of Sports Tourism. The participants will have the possibility to experience the charming and picturesque villages, the numerous museums, the beauty of nature, the amazing beaches, the culture and art of Tinos.
TINOS RUNNING EXPERIENCE races:
TINOS RUNNING EXPERIENCE: Half Marathon road race
TINOS FUN RUN: 10km road race
TINOS FUN RUN: 5km road race
TINOS KIDS RUN: 1km road race for kids within Tinos Town
TINOS SPECIAL RUN: 100m for people with special needs
The Main event of the program is the Half Marathon. Starting at the outdoor theater of the beautiful village Volakas. A village of unique natural beauty, its unique surrounding of big round rocks gives the whole landscape a lunar appearance. Route goes through the villages Skalados, Krokos, Komi, Kalloni and ends in the Town of Tinos.
Besides the Half Marathon, the other races (10km, 5km, 1km, 100m) offer the opportunity to everyone regardless of age, gender or physical condition, to participate in this athletic fest. After the completion of all races follows the awarding & closing ceremony and the spectacular fireworks show.
On the day before the races, Friday the 10th, a Pasta Party is hosted for the participants of the Half Marathon and TINOS FUN RUN of 10km and 5km and their companions. The Pasta Party occurs every year in a different village: 2014 in Steni, 2015 in Agapi and for 2016 will be held at village of Komi. The local cultural groups of the villages, combined with the valuable assistance from locals, especially the women, prepare traditional recipes adapted to the needs of athletes with local products, offering plenty of local wine, raki and folk music. So, athletes and their companions may get acquainted with the local culture, gastronomy, hospitality of Tinos and its inhabitants.
The following day, Sunday, a walk through one of the many trails of the island, getting in touch with nature and the beautiful landscape of Tinos Commercial & Business Association offers reduced prices on ferry tickets, accommodation, meals, entertainment, rental cars, etc. Transportation of athletes on the island is free.
For more information: http://tinosrunningexperience.gr/