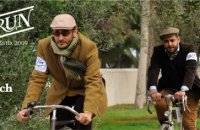 The Tweed Run for the second time in Spetses!

28 & 29 March 2015
The bike enthusiasts will have once again the opportunity to put on their best attires and ride their classic bikes in Spetses.
The concept of the exciting bike ride of a bygone era, that began in 2009 in London and was spread to the most important cities of the world, after its very successful launch in Greece last November, comes back to Spetses! Style and elegance will parade again in the enchanting island of the Saronic Gulf, with all eyes on the antique bicycles and the elegant "tweed" outfits. The initiative and organization is undertaken for the second time by the majestic Poseidonion Grand Hotel, which is perfectly identified with the finesse exuded by this great event, while Tweed Run is supported by the active participation of the Hellenic Bicycle Museum.
On the 28th & 29th March, Spetsiots, Athenians and friends of the event from all over Greece and abroad, will enter again in the relaxed mode of the "Tweed Run". The island will be full of enthusiastic participants having taken care of their classic bikes with artistry as well as their elegant costume selections with a "tweed" touch, experiencing like a large group of friends moments of relaxation, in the standards inspired by the British event. The relaxing, spring bike ride through the natural backdrop of Spetses, the breaks for hot tea and picnic with a variety of tasty snacks, the awards for the Best Bicycle but also Best Costume appearance with a feel of excitement, the jazz music events with plenty of fun, is only a small taste of the enthralling atmosphere that will be enlivened again at the noble island of Spetses.
The components of the Tweed Run respond on total in the desire for different kind of events that are beyond the ordinary and which aim to give a fresh escape from the daily routine, while giving at the same time life but also the opportunity to destinations to highlight the richness of their beauty beyond summer season. The Poseidonion Grand Hotel, always supporting actions and initiatives taken at the outset from values and ideals that are absent today, introduces again in Spetses this event of unique character.
Tweed Run is founded on the philosophy of past times, based on the values we place in each moment. The rush gives its position to pleasure, the rough appearance to the elegant, the disrespect to good behaviour, individuality to teamwork, the depreciation of nature to its praising. The event would not be better identified with any other place than with an island characterised by the beauty of nature, the classicism of architecture, the authentic people and the nobility. As also it would be not linked more ideally with any other organiser than with the legendary Poseidonion, that manages for more than a century to transmit the unique atmosphere of a bygone era with its classic architecture and aristocratic finesse.
Register for the Spetses Tweed Run 2015!
Registrations: T.: 6947 020508 | Email: paschali@travelworks.gr