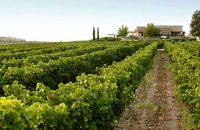 Imagine a beautiful landscape with rows of vineyards extending in front of your eyes and hills with vines popping up in every turn. Blooming trees and old olive trees alternating with vineyards and wildflowers completes the beautiful synthesis. Image that you are following the paths of wine and you are mapping your memory though taste. You are getting to know fragrances and flavors and trying lots of different glasses of wine accompanied by local delicacies. Definitely somewhere in the picture there are smiles of pleasure and the enjoyment of sharing nice moments with relatives and strangers.
Sounds dreamy, but it is totally realistic. You just need to seize the opportunity for a getaway of vinous content. On your next trip make sure to pay a visit to one of the dozens of wineries in Greece. Get to know popular destinations, such as Santorini and Crete through their wines and discover the charm of remote vineyards on the slopes of Pindos and the arms of Thrace.
With much more than 100 wineries throughout Greece, from North to South and from the mainland to the islands, wine tourism is a form of a thematic tourism, where wine is the focus of the trip. At the same time the trip can be framed with a variety of gastronomic, cultural or outdoor activities.
Visits to vineyards, winery tours and wine tasting, combined with meals based on local delicacies are the most common versions of a "wine tourism" day, which can be combined with walking or cycling in the vineyards, acquaintance with the flora and fauna of the region, cooking seminars, and all sorts of activities that match ideally with the experience offered by wine tourism.
The wine tourism is a unique key that unlocks the doors of each region reflecting in a special way its special characteristics, offering knowledge through enjoyment, pleasure through taste and a sense of proximity around a table.
White, rosé and red wines, sparkling, sweet and special, all have their place on the map. Each one with its attributes, each one with a different story of vineyards, people and experiences. All adding to an enchanting trip.
Tips:
- There are many wineries throughout Greece with proper facilities to host wine tours and turn wine tasting into an unforgettable experience. Reservations are necessary for your convenience.
- People who are into wine making have beautiful stories to share. Enjoy them.
- Many wineries are child-friendly, offering educational activities.

See wineries open to visitors.
See Suggested trips of Winetourism.