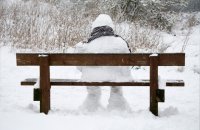 Yes indeed, the snow has slowly begun to blanket a fair number of mountainous areas, and the skiers among us are chomping at the bit. While they're out enjoying the slopes, the rest of you can enjoy the snowy landscape using the snow to showcase your artistic talent.
We begin with the standard snowman, obligatory for any party on a wintry excursion. Here then is some basic advice, sure to put him in the top five best snowmen you've ever seen.
First, the selection of the snow. Not all types of snow are appropriate. The powder coveted for the slopes is no good at all for making snowmen. You need your snow to contain some moisture in order to stick together, so best to find some lightly frozen snow.
Next: location, location, location! If you don't want your snowman to be tormented by the sun's first rays, find a relatively shady place so that he too can enjoy the winter in comfort.
Going forward, there are two principal techniques: either gathering the snow into a heap, or the more entertaining option of rolling the giant snowballs that will comprise his body. The latter is more technically difficult, while the former gives unlimited freedom to anyone with a talent for sculpture. If you opt for the ball method, it's a good idea once you've rolled the largest one into the place to insert a small stick to give structural support for those following. Stylistically, we prefer a stout, two-ball type of fellow, but if you want you can make him gangly adding a third ball, or maybe even more!
To enliven your snowman, give him a pair of buttons or small stones for eyes. A carrot or, alternatively, a stick makes a suitable nose. Give him a scarf so he doesn't feel cold, but don't use your favorite one since your snowman may fall prey to thieves.
Lastly, to add some longevity to your ephemeral work of art, spray him gently with a little water to freeze him solidly in place.
If you have found this easy enough, you can move on to the challenge of constructing an igloo, which does however take some time and preparation, or simply let your imagination run wild: dragons, crocodiles, you name it. Just be sure to keep your creation's center of gravity low!
May your work be blessed with inspiration (plus a little patience).