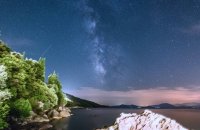 A beautiful timelapse video of Panagiotis Filippou dedicated to his father, won the Best New Year prize of the Fest of Hollywood International Independent Documentary Awards (HIIDA).
Panagiotis spent a whole year under the Greek skies and he managed to deict the essence of the beautiful country of Greece. The amazing sky of Greece pictured and filmed from all around Greece.
As Panagiotis said: It is a great honor for me, where in this effort I had beside me two real friends. One of them stood by me when I was in different locations where no man must go alone Konstantinos Themelis Photography. Along with his amazing photo shots was my other friend Christophe Anagnostopoulos Photography who -also- recently lost his mother. We spent endless hours behind the lens and gazing the skies.
As he mentions in his video:
"Dad the video is ready, I know you are not here to see it together, but forgive me I cannot type "in memory of" for you.. cause you never left me and you never will.
Μy immunosuppression didn't keep me down, neither the cold, nor the heat. What kept me out there dad was you, because you are out there Dad, up in the Greek Skies, every time I turned my camera up in the sky I was pointing at you.
You made Greek Skies so much more beautiful and so much more amazing.
Dad the video is you, you are the Greek Skies.
I will continue following the lesson you taught me in your last days. Support every human being that gives this battle with everything I can. And this is just the beginning…
You were there Dad. 365 Days, 55.000 Photos, 825 hours shooting photos, 8400 km, 650 hours of editing, and countless hours of praying.
You were there with me & you will always be.
Till we meet Dad!
Your Son".
Panagiotis took around 55.000 photos in 365 days and through 825 hours of shooting. To depict the sky of Greece he traveled around 8400 km, from Pelion to Volos, to Meteora, Mount Athos, Antiparos, Kalavryta and Patrais.
In order to create this video he used: Nikon D810, Nikon D800, Nikon D610, Nikon D7000, Nikon D7100, Canon EOS 6D & GoPro 4 Silver. As for the lens he used Nikon AF-S NIKKOR 16-35mm f/4G ED VR, Nikon AF-S NIKKOR 20mm f/1.8G ED, Nikon AF-S NIKKOR 24-70mm f/2.8G ED, Canon 17-40 f/4, Canon 50mm f/1.8, Sigma 35mm f/1.4 Art, Samyang 14mm f/2.8 – Nikon, Samyang 14mm f/2.8 – Canon.
Some of the special equipment he carried included: Vixen Polarie, Star Adventurer Skywatcher, Digislider Timelapse & Video Kit, Manfrotto 190XPOB ballhead, Benro Travel Angel III, Tablets & Smartphones to use the Triggertrap app.
Enjoy the video in Full HD or 4K.
Music: Fred Capo, capoproductionsmusic.com
Video: Panagiotis Filippou / panosphotographia