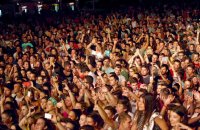 At the Greek- Turkish borderline,in Kastanies, next to the river Ardas held every summer (with no interruprion since 1995) the interbalkan cultural event named "ARDAS-THE YOUTH MEETING". This event, which has evolved into a cultural institution, is well known all over Europe.
The variety of activities in music,sports,tradition and in culture creates a fanatical audience which finds there an alternative way of entertainment and fun and also promotes the cultural and tourist wealth of Greece.Young people across the country and the Balkans meet at the" River of Civilasation" sending through music the message of the peaceful coexistence of people.
In addition to concerts with all the stars of the greek music scene,there are multiple events such as screenings,exhibitions,sports events,theater performances,radio station operation,voluntary actions of all kind,local tradition events and ecotourist tours.

The programm of the Festival will be announced soon.

Directions

:

By car:

Festival can be reached Via Egnatia Road (E85). Follow Kastanies who is located 17 kilometers north of Orestiada.

Kastanies are just one kilometer from the interchange of the highway. From the central square of the village by turning left and 500 meters away you find the Ardas River and the space of events.

By bus:

KTEL Evros - regular intervals from Athens, Thessaloniki, Kavala, Xanthi, Komotini, Alexandroupolis, Soufli Didimoticho, Orestiada.

All buses have final destination the town of Orestiada where there is response routes until Kastanies.

The last stop in the village is 300 meters away from the central gate.

By airplane:

The nearest airport is located in Alexandroupolis and called "Dimokritos".

The Olympic Airways and the Aegean Airlines flights daily. The visitors after the flight may be boarded a KTEL bus with destination Orestiada.

More information on the link: http://ardasfestival.gr/