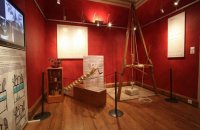 Ctesibius of Alexandria, Eratosthenes of Cyrene, Aeneas Tacticus, Philo of Byzantium, Hero of Alexandria, Aristarchus of Samos, Hipparchus of Rhodes are names that are unknown to most of us. Yet these are the pioneer mathematicians, geographers, astronomers, philosophers and inventors of the ancient world, whose technological achievements formed the base for contemporary western civilization.
Reserve your place early for the weekly guided tours at the Herakleidon Museum annex (Ap. Pavlou 37, Thissio) and learn about the most important technological achievements of the Ancient Greeks.
The guided tours take place in collaboration with the curator of the exhibition Kostas Kotsanas and are intended for individuals, groups, and schools. The exhibition will last until January 10th 2016.

Guided tours program of the exhibition "The Amazing inventions of the Ancient Greeks" :
The Herakleidon Museum is organizing a series of guided tours in cooperation with Mr. Kostas Kotsanas, curator of the exhibition.
Information-Reservations: Daily & weekends 10:00-18:00, T: 211 01 26 486 / E: annex@herakleidon-art.gr
Interactive guided tours*
Every Thursday 18:00-19:30
Every Saturday & Sunday 12:00-13:30 & 16:00-17:30
Participation cost (including admission): 10,00 €
* Includes guided tour and interactive activities with the exhibits.
General guided tours for groups
Participation cost (including admission): 6,00 €
School visits (up to 40 students)
From Monday to Friday 10:00, 11:00, 12:00 & 13:00
Participation cost (including admission): 4,00 € per student/chaperones free
Reservations required for all programs.