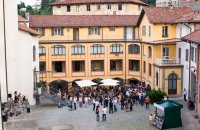 Eleusina celebrates culture and art hosting for another year the Aisxylia Festival; the 41st Aisxylia Festival will take place from July 11, 2015 to October 30, 2015.
"Aisxylia Festival 2015"
features various events as the festival aims at embracing and promoting art in all its manifestations. This year's programme includes numerous theatrical performances, concerts, performances in the frame of the Contemporary Theatre Cycle, exhibitions, film screenings, a half-marathon race, the presentation of the anniversary edition "40 years Aisxylia" as well as a book presentation.
The festival's international programme also features the sound installation "I/E Eleusis" created by the internationally renowned Lebanese artist Tarek Atoui, and curated by Locus Athens. This installation makes its international premiere at the old Olive Press on September, 3 and will be hosted there until October, 11.
Aisxylia Festival has received recently an important distinction since it made its entrance in the list with the finest European Festivals and it was awarded the EFFE label by the European Festivals Association. "Aisxylia Festival 2015" is organised by the Municipality of Eleusina.
For more info:
www.aisxylia.gr