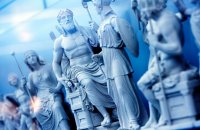 On the occasion of the Greek National Holiday on Wednesday March 25, the Acropolis Museum in Athens has announced free admission and access to special events.
Entry will be free for all visitors at the Acropolis Museum from 9am until 5pm.

Events
Exhibition curators will present exhibits that reveal the great moments in Greek history and mythology. The event is for adults and the presentations will take place in Greek at 10am, 1pm & 3:30pm; in English at 10:30 am; and in French respectively at 10:30 am. Participation is limited to 30 visitors per session on a first-in first-served basis. (Duration: 50 minutes).
The museum will also hold an event for children (and their parents). Assisted by exhibition curators, children will be asked to discover artifacts related to the history and myths of Athens. Then the children can make their own, personal, souvenir. The event will take place at 12 noon for children aged 4-7 and at 1:30 pm and 3 pm for children 8 to 12 years old. Participation is limited to 20 children per event on a first-in first-served basis. The search of artifacts will take about 20 minutes.
On the same day, the museum's restaurant will serve a "Greek Traditional Meal".