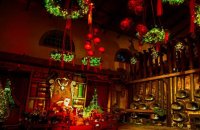 The Christmas Factory, the most fabulous factory of Christmas, returns to Technopolis – City of Athens in Gazi from November 28, 2014 to January 6, 2015.
This amazing theme park is installed in the centre of the city and – with the help of elves, fairies and goblins - aims to spread the magic of Christmas to all visitors.
This year the Christmas Factory becomes larger and fills all the areas of Technopolis with various events, activities and educational workshops creating new hosting spaces.
Five new heroes, distinct and original ones, who are permanent residents of the Christmas Factory, are ready to entertain everyone with their unique story and their distinct role inside the factory.
Games, sweets, 'cheats', songs, presents, awards wait for the visitors at the Santa's House, the Toys Factory, the Digital Christmas, the Sweet Factory, the Ice Rink, the Carousel, the Train, the Wheel and the Slides thanks to these fanciful heroes.
Visit the Christmas Factory and welcome Christmas in a unique and magical factory!
The Christmas Factory is under the auspices of the Greek National Tourism Organisation.