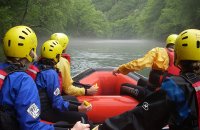 Lots of rafting schools that can take you on a tour in waters of the nearby rivers can be found in Ioannina.
The rivers Aoos and Voidomatis are ideal for rafting and kayak as they have easy and more difficult routes that can be up to 27 kilometers long.
As far as rafting is concerned, Voidomati's route is ideal for beginners in contrast to...