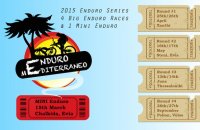 Enduro Mediterraneo will be traveling to 5 unique destinations for 2015. 4 big Enduro races and 1 Mini Enduro. The opening race will be held in Chalkida, Evia with a Mini Enduro Race without point nomination. The first big race venue is Xanthi, in a fantastic network of trails designed built by local riders. The second venue will held at the "birthplace" of Enduro racing in Greece, the mountain of Dirfis in Evia whose trails were used for the first Enduro Race in Greece in 2013. The third event will be held in Oreokastro Thessaloniki , and the Grand Final will again be held in Pelionwonderful trails. Trail paths and narrow passages through five villages, ending on the beaches of Pelion in a cycling celebration, where the Enduro Mediterraneo Champion for 2015 will be crowned.
The races

MINI Enduro – 15th March – Chalkida
Round 1 – 25th/26th April – Xanthi
Round 2 – 16th/17th May Steni, Evia
Round 3 – 13th/14th June – Oreokastro, Thessaloniki
Round 4 – 26th/27th September Pelion, Volos
All races will be the predefined Enduro Format which consist of uphill
Liason Stages
and downhill
Special Stages
. Included may be uphill trails no more than 10% in general. Athletes will be timed on all Special Stages, and their timed sections will be added up to compile their total competition time. The stages between the timed descents are called Liason Stages, and because of time gaps, athletes have the ability to move in small groups. Athletes throughout the duration of the race
are invited to be autonomous in hydration and nutrition
, (except the start of the first special SP1), where HYDRATION and nutrition will be given at the race start. Any assistance given, either by external agents (coaches, etc.) will be possible
only in the presence of the Coordinator of the race
, either by teammates at any time. Despite reporting regulations governing Enduro Mountain Bike and enforcing the autonomy of athletes, minor adjustments may occur in the benefit of the athletes. The exact design and adjustments will be announced shortly.
This race aimes at experienced cyclists
. This race includes all terrain trails and favors dual suspension bikes. To participate, athletes should have a helmet, not necessarily a full face helmet on timed paths, knee pads and gloves. Optionally, shin guards, glasses, armor, backpack , hydration pack, closed helmet, boots, and other protective accessories.
The purpose of this series is to develop the sport of Enduro Mountain bike and highlight paths and riding areas in greater Greece.
Entries
are now Open with Early Birds getting a 20% discount. Register at
http://enduromediterraneo.com/registration/
Parallel activities
will take place during the weekend of the race, which will be announced soon.
Exhibitors
can showcase their products in a special area, at the start of the race in the Race Start
Managing Director: Steven Kounis
For more info visit:
enduromediterraneo.com